Hey All,
I knew Margo Godfrey (as she was then known) was super young when she took 4th in the 1965 SURFER Poll. I didn't know till just now that she was in fact only 12 on the night of the awards ceremony in mid-April, 1966. A braces-wearing sixth-grader! With that in mind, my newly adjusted Top-Five Greatest Preteen Surfers is as follows:
1. Jeff Hakman
2. Margo Godfrey
3. Donald Takayama*
4. Jeremy Flores
5. Carissa Moore
Hakman for the win because at 12 he was riding hefty North Shore waves on a board he shaped himself—but a more contest-oriented person might give Margo the nod over Jeff, and I won't fight back. In 1965 she won the debut Menehune 12-and-under event at La Jolla Shores, not only beating the other female entries but all the young dudes as well. "Blonde Margo Godfrey surfed off with top honors," Patrick McNulty wrote in SURFER. "She turned on with some fabulous noserides that really showed the boys up." The accompanying photo shows Godfrey in a very Dora-esque moment of nose-trim, face calm, hands by her sides, smooth and stylish way beyond her years. That write-up alone probably secured her 4th-place finish in the SURFER Poll. Margo was 3rd for the next two years, behind Joyce Hoffman and Joey Hamasaki, then hit #1 in '68, following her win (at age 15) in that year's World Championships, then repeated in '69, at which point the Poll was retired for eight years.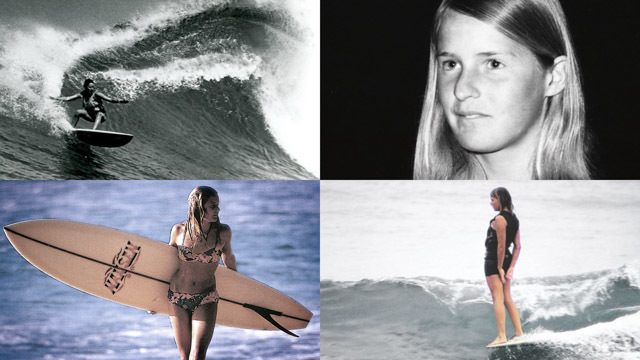 In 1978, when the Poll returned, Margo was still on top, and if we were to make another Top Five list of surfers who landed that Evel Knievel-like jump from longboards to shortboards, she's up in the mix there, too.
Oh, all right . . .
1. Nat Young
2. Jeff Hakman
3. Jock Sutherland
4. Margo Oberg
5. (tie) Midget Farrelly, Joey Cabell
And of all those adaptable souls who so magnificently crossed over, long to short, only one stayed at the very top of the game all the way into the 1980s, and that of course is the Divine Miss M, who won her fourth world title and fifth SURFER Poll in 1981. She was still only 28.
And now, a sharp pivot . . . .
Do YOU have what takes to run the day-to-day for Encyclopedia of Surfing so that I have time to make more throwaway Top Five lists? EOS is looking for an Executive Director. I take a jovial tone here and have attached a humorous image, because we're in Sunday Joint mode. But the job will be demanding and the skill set you need to bring must include: donor development and maintenance, database and CRM experience, project management, event planning, grant writing and tracking, marketing and social media expertise, and A-grade communication skills. Experience with nonprofits not essential, but very much preferred. Knowledge of surf history culture would be nice but is the least-important requirement.
Pay is $60,000 to $65,000, depending on experience. No health or dental. Click here for more information and instructions on how to apply.
Thanks for reading, everybody, and see you next week!
Matt
* Was Takayama really just 12 years old when he flew from Honolulu to California to shape for Velzy? Hmmmm.
[Photos: Ron Stoner, Greg MacGillivray, Brad Barrett]