Hey All,
Never read reviews before experiencing the thing itself, the book or movie or tour or whatever. Everyone knows this, but I did it anyway, read the damn review, and that's how I learned Python Lee Jackson did the soundtrack for a one-hour 1966 Aussie surf doc called The Surfing Years before I actually watched The Surfing Years. "Python Lee Jackson has supplied suitably twangy music" is what caught my eye—and that's my cotton-ball tail you see vanishing down the rabbit hole, and people I was not disappointed.
Python Lee Jackson—a band, not a person; everyone's been confused about this for over 50 years—rose from the ashes of a very good Aussie surf group called the Denvermen. By the time Surfing Years began filming, the six-month-old Python, already the house band at Rhubarb Discoteque in downtown Sydney, had come up with a solid organ-proud blues-R&B sound (think early Animals with 25% more pop), and they looked so sharp while performing that Australian Women's Weekly was on the line looking to feature the lads in a color spread. So Surfing Years led me to Python Lee Jackson, and this track in particular, and for that I am hugely grateful. (In the UK, in 1969, a reformed version of Python called in a session musician at the last minute to sing a track called "In a Broken Dream," and paid the guy with a set of automotive seat covers. A few weeks later he joined the Faces, a few weeks after that he released his own debut, titled The Rod Stewart Album, and the by that time God alone knows how much champagne and beer had soaked into his still-new seat covers)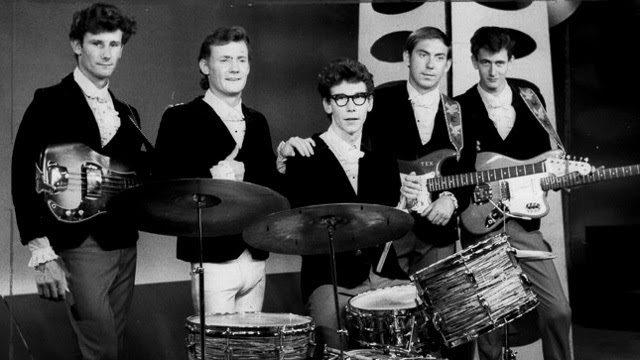 Surfing Years also led me to Peter Clifton, the director, a friendly and quirky and hardworking man who quickly jumped from surfing movies to rock docs, and was embraced and welcomed backstage by everybody from Mick Jagger to Otis Redding to Johnny Rotten. Just eight years after making Surfing Days, Clifton was directing Led Zeppelin's The Song Remains the Same—a big loud hot mess of a movie, what with the cosplay drag racing and all, but still. You can watch all of Song online, but try Clifton's London Rock and Roll Show instead, filmed at a Wembley Stadium oldies revue (Chuck Berry, Jerry Lee Lewis, Little Richard, Bo Diddley) with Mods and Teds and first-gen Ziggy-spawn all having the time of their lives. Honestly, if you're going to just watch one thing linked to this joint, make Rock and Roll Show your choice, it is an absolute feast.
Okay, we've put it off long enough. Let's now turn to The Surfing Years itself. It came out in late 1966, with funding from the Australian Broadcast Corporation, meaning you weren't flogging it down to the local surf life-saving club to watch with a few dozen mates, but tuning in, along with every other surfer from Brisbane to Melbourne to Perth, to ABC1. A genuine media event, in other words. The show follows three surfers and a pair of young women (girlfriends, roommates, hangers-on; the boy-girl status is unclear) on a cramped single-car road trip from Sydney to Noosa Heads, with stops at Crescent Head, Byron Bay, and Surfers Paradise.
We get a few surfing sequences, but mostly the film just unhurriedly tracks along as the group rolls up the coast, with voice-over remarks from the cast on various topics, all tied back to what it means to be a part of Australia's younger generation. The premise is fine. The photography, the editing, the slowed-down pace, the sense that we're seeing real people in real settings and that the cameras have been forgotten—all great, and especially so in our present digital age where everything is fast and filtered and performative. You'll want to watch Surfing Years just to linger on the clothes.
Still, the end result, for my money anyway, is a low-simmering start-to-finish downer.
In contrast with the visuals, the ideas presented in Surfing Years—on travel, surfing, parents, school, work—are mostly half-formed or borrowed or otherwise delivered with no great conviction and even less verve. Not deceitful, though, which I guess counts for something. "Most of the time we just lie around and do nothing," one of the girls says. "I just go to parties and go surfing, and have as much fun as I can," one of the boys says. Maybe this came off as truthful or daring in 1966, but I kinda doubt it. Furthermore, while there are smiles here and there, and bottomless glasses of beer, an impromptu campfire barbeque, and nightclub dancing in Surfers Paradise, nobody involved seems to be having a very good time. Brooding is the default position.
What we have here is a car full of bored and semi-privileged middle-class kids who are likely a bit unsettled not just at the imminence of adulthood but also the fast-approaching stampede of late-'60s movements and pathologies—drugs, Vietnam, civil rights, feminism—but are unable or uninterested in articulating those feelings. There's a void in the center of Surfing Years, in other words. Except for the surfing scenes—which are humdrum by the standard of '60s-age surf movies, action-wise, but work perfectly here—the message seems to be nothingness. Is that the point? Is that what Peter Clifton set out to do? He was just 25 when he made the film, and a surfer himself, so I doubt it. But who knows, maybe.
The most revealing moments in Surfing Years are also the ugliest. While bunking down in a country town for a night somewhere on the NSW North Coast, the boys casually steal food from a market and scam the local motel, and let's not judge too harshly, the spirit of Miki Dora visits us all at that age. But here comes the voice-over: "Country towns are good fun 'cause you can go in there, muck around, laugh at the people, and you don't worry about what anybody thinks of you cause you're only there for a little while."
And then later in the program, as we watch the two girls cross a busy street in Surfers Paradise, we again hear from one of the guys: "Between the ages of 13 and 16, that's when the girls are most wild. That's when they live it up most. Because after the age of 16 most things are legal anyway. That takes the fun out of doing everything." Kim McKenzie, with an overabundance of emojis, will tell you how much fun that was.
At the end of the film, when the crew pulls up at Noosa only to find the surf flat and onshore, and one of the surfers complains that "If I was at home now, I could probably walk out my front door and find really good surf," I was gleeful.
Back to Sydney, you spoiled little whingers.
Here's another Python Lee Jackson track to lift the mood.
Matt
PS: I was going to not talk at all about the identities of the surfers in Surfing Years because they're meant to be stand-ins for Aussie youth in general. But it's worth noting that, for all the rhetoric about freedom and fun and not doing what society expects, Dick Van Straalen, the Dutch-born blond surfer who in the beginning of the movie rolls out of bed and cracks a beer before the morning surf check, was married by the time the film came out, with a kid on the way, and remains married still—to the same woman—57 years later. This is of course the same Dick Van Straalen who moved to the Gold Coast and became the "Dick Brewer of Australia," making dagger-like pointbreak singlefins for Peter Townend and Wayne Bartholomew and many, many others.
[All photos from The Surfing Years, except for the black-and-white shot of the Denvermen, the color shot of John Bonham playing drag racer, and the pic of Rod Stewart]