Hey All,
There are no waves to speak of in Long Beach, so for me, as a kid, even though we lived just a few miles to the north, it almost didn't exist. At some point my mom drove a group of us kids out for a day at the Long Beach Pike, which to us Disney-raised creampuffs was unnerving in its seedy midway decline. My senior prom took place at the Queen Mary. I was frog-marched to a few ASR tradeshows at the Long Beach Convention Center in the 1980s. But those were the only times I was ever in Long Beach. It lived in my mind as nothing more than a vast heavily-industrialized harbor, fenced in by literally miles of breakwater. It was a place we drove around, hopefully not during rush hour, on the 405, on the way to Huntington or Trestles.
My antipathy toward Long Beach was strong enough that it put a blind spot in my otherwise imperial surf-historian's view of the sport. I'd heard of the once-famous but long-since destroyed wave called Long Beach Flood Control, of course, but always figured it was a surf break the way Corona Del Mar, 22 miles to the south, had been a surf break—a soft, barely there straight-off-Adolph wave rolling alongside a deep-channel jetty. Like this:
But Flood Control was nothing like Corona Del Mar. Five or so years ago I at last saw an image that showed just what kind of setup was on offer at what used to be known as the West Beach, and it was—not Superbank, exactly, but pretty close. Starting in 1915, the flood-prone Los Angeles River, which opened next to the Port of Long Beach, had been dug out and widened and connected to dozens of smaller rivers and channels throughout LA, and as the runoff increased, so did the size of the rivermouth sandbar. Watch it grow:
It didn't last long. A breakwater extension turned the surf off in either 1943 or 1944. "We Killed the Best Wave in Southern California to Save Democracy: The Rise and Fall of Long Beach Flood Control," which posted this week, takes a longer look at this strange and short-lived break—which, by the way, not only faced almost due south and was thus side-offshore pretty much every afternoon, it was also fronted by an offshore canyon and was usually twice the size of Huntington.
Two thoughts.
Doc Ball and all the other surf geezers who raved about Flood Control are dead and gone, but I owe them an apology anyway. Flood Control, if anything, was even better than they said.
Flood Control also reminded me of a conversation I've had two or three times with Sam George about the number of California surf breaks ruined by development vs the number of breaks created or at least improved. It is a trickier question than you might think. Not all piers improve the surf but many do, so put them on the plus side. All of the ocean-bound rivers we've choked off equals a lot of ruined surf breaks. A breakwater can go either way. Dana Point Harbor took out a handful of good spots but Santa Barbara Harbor created the finest wave in all of Mainland America.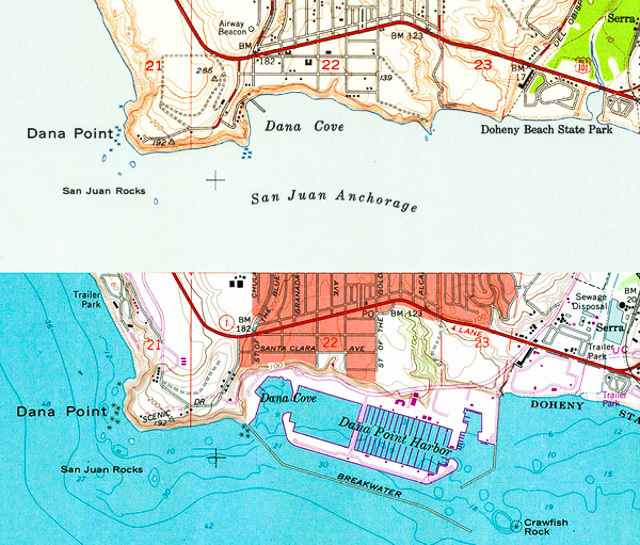 Flood Control I guess counts as a minus. There was no doubt a wave of some kind there when the Los Angeles River hit the beach, even in its less-forceful pre-channel phase. But engineering made the wave great. Then more engineering destroyed it completely, plus a lot of beachbreak surf to the southeast for good measure.
On balance, I would say we've created more surf breaks than we've removed, but that's just a guess, and if I could rub a lamp and get three wishes, they would be: Enlightenment, a hangover-free Manhattan, and removal of all coastal structures, large and small, private and public, forever and eternity.
I will settle for a single Manhattan and a sliver of Ativan.
Thanks for reading, and see you next week!
Matt
[Grid images, clockwise from top left: late 1930s postcard showing Flood Control sandbar; Charles "Doaks" Butler at Flood Control; senior prom 1978; the Spruce Goose takes flight at Long Beach Harbor in 1947; sailors' night out; surfing near the Cyclone Racer roller coaster in 1938. Log jam at Corona Del Mar. Tandem surfing at Corona Del Mar. Two aerial views of Flood Control. Before and after maps of Dana Point. Sandspit by Josh Pomer.]