Hey All,
The 2021 EOS fundraiser was a middling success right up until Christmas Eve, when Surfing Heritage and Culture Center cofounder Dick Metz dropped ten large into the pot, pushing the total north of $45K, at which point the drive cross-stepped from middling to excellent.
Folks, 2022 is funded. Operation Headless is taking place as we speak.
To all the EOS donors and subscribers—thank you so much, not just for supporting the project with your checks and credit cards, but for the upbeat and encouraging emails and letters and texts. The thing we have going here is not big the way SURFER was, say, back in the earlies. But it does run deep, in that I know surfing means as much to all of you as it does to me, and we get to talk about all of it, high and low, funny and grim, on the regular. At at the risk of sounding pretentious, EOS is important, too, because while I'm grateful to create (hopefully) a finger-popping Nick Lowe-type mood with the Sunday Joint, the real work comes earlier in the week as we add piece after piece after piece to our still-very-incomplete surf history mosaic.
John Hannon, the smiling ex-Marine "Father of New York Surfing," founder of both Hannon Surfboards and the East Coast Surfing Championships, and the spirit animal of Gilgo Beach (below), died last month at age 94. "Like all good surfboard builders," Hannon told SURFER in 1965, teeing up one of the great DIY quotes of all time, "I went out to my mother's garage and got busy."
Eve Babitz, "the voluptuous bard of Los Angeles; a Brigitte Bardot with a shag haircut and hip-huggers," as the Times put it, also died last month, at 78. It is hard to feel bad for someone who lived as fully and colorfully as Eve did—she dated Jim Morrison and Harrison Ford, created LP covers for Jackson Browne and Buffalo Springfield, and gave Steve Martin a fashion makeover that helped launch his career. It seemed Eve was everywhere and with everyone (everyone cool and beautiful, that is) during Southern California's coke-and-tequila powered '70s, and if she wasn't the biggest star in the room she often drew the most attention. Guys especially. "In every young man's life there is an Eve Babitz," record exec Earl McGrath once said. "It's usually Eve Babitz."
Yet Eve, throughout her career, was always and maybe unfairly in the shadow of Joan Didion, and that dynamic was in place right until the end, as Didion died four days after Babitz, and guess who got all the attention.
Eve went to the premiere of Five Summer Stories, at the Santa Monica Civic, and you can read her Rolling Stone review here. It is very good. Babitz describes Gerry Lopez as looking like "a relaxed lady-killer revolutionary," and says FSS producer Greg MacGillivray comes off not as a surfer or filmmaker but "a young high school algebra teacher." But her best lines are given, deservedly, to David Nuuhiwa.
Halfway through the film we were dazzled by a face so abrupt in its savagery and its vestigial traces of paradise that I figured the audience uproar was a simple reaction to the jagged beauty of the face itself. Bygone island eyes. Disheveled black hair tangled around this face and down past his shoulders like a thorn frame. Underneath the face flashed the news that this was David Nuuhiwa (New-eee-vah), but everybody in the place already knew that except me, which was why they were screaming.
I was at the Civic that night, screaming my 12-year-old heart out. I was too young to fall for Eve, but if David had told me to take a flying run off the end of Santa Monica Pier I would have been midair and plunging before the credits rolled.
Thanks for reading, everybody, and see you next week.
Matt
PS: Last year at some point I commented on how surfers of yore held onto their boards longer, then followed up in October with a bit about Magic Sam, Nat Young's world-beating mount from 1966, which he rode for eight months until the board "looked as old and yellow as Steve Buscemi's teeth." Billy Hamilton's 1969 North Shore stick didn't last as long, but from this series of pictures below it is obvious that Hamilton extracted every drop of magic from this particular board. I don't know the exact timeline here, but November '69 to January '70 would be a reasonable guess.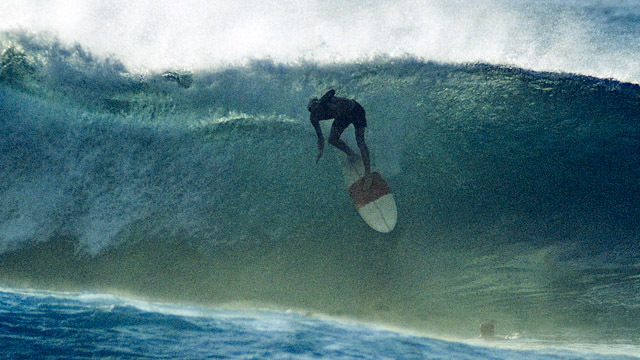 [Photo grid, clockwise from top left: Steve Martin, David Nuuhiwa at Pipe by Jeff Divine, Eve Babitz, John Hannon, Five Summer Stories handbill, David Nuuhiwa. Gilgo Beach board rental shop, photog unknown. Eve Babitz, photog unknown. Bill Hamilton photos by Art Brewer and John Severson]